Healios' Business Strategy
Our mission is to foster a "Life Explosion" that enriches the lives of people around the world. In pursuit of this mission, we maintain the goal of delivering cures and hope to patients with refractory diseases, by engaging in the development of a pipeline in the fields of "Somatic Stem Cell Regenerative Medicine" and "iPSC Regenerative Medicine" using stem cell technology.
In order to quickly deliver new treatments to as many patients as possible, we are aiming for further expansion of our business based on both short-term and long-term strategies.
In the short-term, we plan to add technologies to our pipeline that we can expect to commercialize relatively early, thus promoting the realization and monetization of innovative treatments. Examples of this include the in-licensing of potential therapies for acute cerebral infarction in 2016 and for acute respiratory distress syndrome in 2018.
Meanwhile, science and technology have been making incredible progress. Therefore, it is important to quickly identify and develop "platform technologies", which can become the foundation of revolutions in regenerative medicine. Platform technologies may not be immediately used for curing diseases, but they are essential for growth in the long-term. One of these technologies is the organ bud transplant technology whose research has been jointly conducted with Yokohama City University since 2014.
By using the research and manufacturing know-how, and profits accumulated with near term successes from our pipeline, we will be able to obtain new platform technologies, necessary to achieve innovative treatments. And, in turn, we will obtain new technologies to add to our pipeline to cure new diseases. We want to create a system where the different gears turn even bigger gears, in order to advance the movement of regenerative medicine, its practical application and its industrialization.
"Life Explosion", Healios' Innovation
Big changes are taking place in our lives right now. For example, there is "Dry Innovation" - technologies based on IT, IoT, AI, etc. At the same time there is "Wet Innovation", which uses new technologies to support people's health and their life, like regenerative medicine.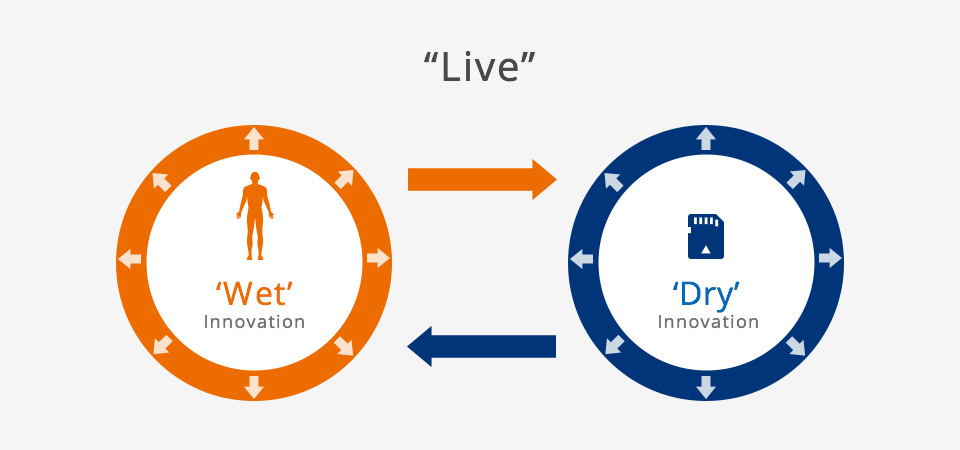 In recent years the dramatic evolution of Dry Innovation has made our lives more convenient than ever. However, more convenience does not automatically mean more happiness. People's lives are made of different elements, such as a bodily one and an emotional one, intertwined together. Healios' mission is to foster a "Life Explosion" through "Wet Innovation", by the practical application of regenerative medicine, and in doing so enrich the lives of people around the world.
Always Looking For "Value In Living"
When dealing with regenerative medicine it is important to ask oneself: "What is the value of life?" With the emergence of new technologies such as cellular therapies and gene editing, we can fight more diseases giving people both more time to live and a higher quality of life. One must ask whether the value of life has changed. We believe this value has drastically increased, as we have gone from an era where the problem was "How long can I live?" to one where the problem is "How should I live?" We at Healios want to help usher in this new era by bringing the hope to live, and to live well, back to our patients.