About iPSC Regenerative Medicine
Induced pluripotent stem cells (iPSCs) are established by introducing several factors to somatic cells such as skin cells. iPSCs can differentiate into the cells of a various tissues or organs (pluripotency) and grow indefinitely (proliferation). The objective of iPSC regenerative medicine is to restore cellular function by replacing dysfunctional tissues with cell therapy medicines, which are prepared via a differentiation process (a technique used to artificially change cells into those having specific functions),
and which have the same functions as healthy human tissues.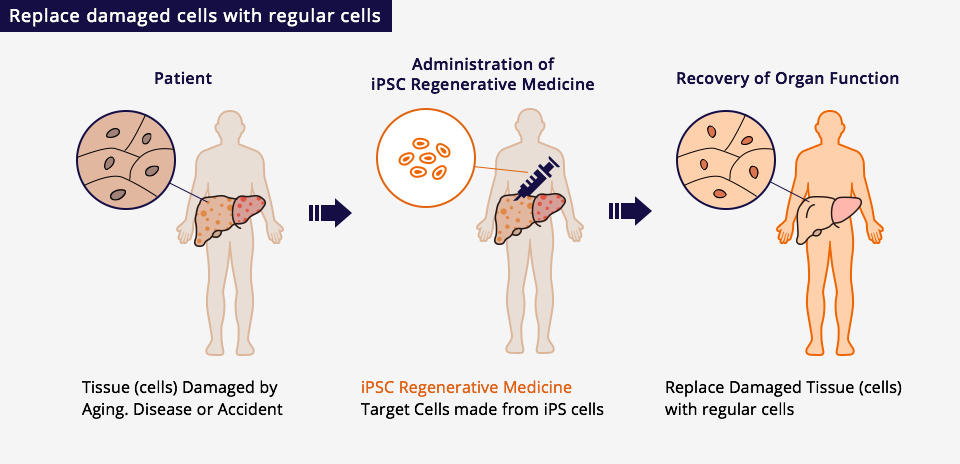 Business Structure & Partners
In order to develop the new industry of regenerative medicine using iPSCs, we at Healios aim to create a system that spans the entire value chain, from production to sales, and are nurturing affiliate relationships with various universities, research institutions, and business partners.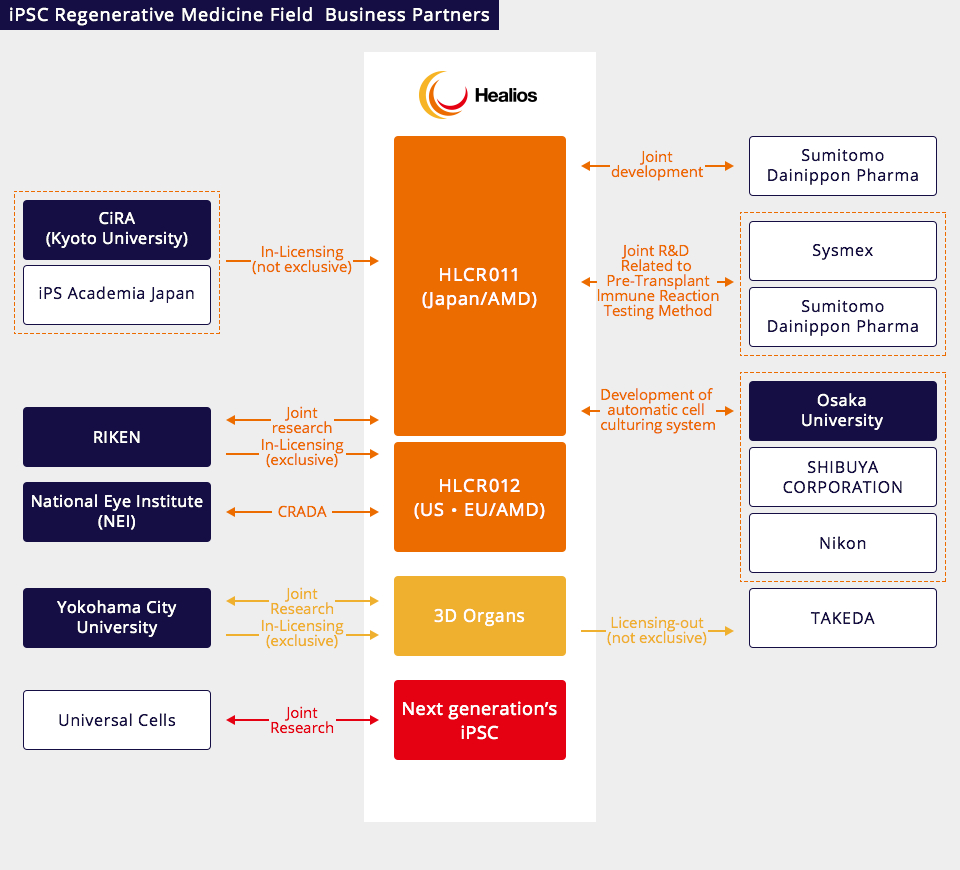 Pipeline in the Field of iPSC Regenerative Medicine
【Ophthalmology Area】
Please refer to the page "About Age-Related Macular Degeneration (AMD)" involving transplantation of iPSC-derived retinal pigment epithelial (RPE) cells as an iPSC regenerative medicine.
Development Code
Indication
Market
Pre-clinical test
Clinical test
Apply-approve
On the Market
Progress Status
HLCR011
Wet AMD
Japan

Transplantation conducted
under Clinical research(*1)

Undergoing preparation for clinical trial
| | | | | | | | | | |
| --- | --- | --- | --- | --- | --- | --- | --- | --- | --- |
| Development Code | Indication | Market | Pre-clinical test | Phase I Trial | Phase II Trial | Phase III Trial | Apply-approve | On the Market | Progress Status |
| HLCR012 | Dry AMD | US | | | | | | | CRADA with NEI |
| HLCR012 | Dry AMD | EU | | | | | | | Global trial under consideration based on US phase III trial |
"Clinical research of transplantation of induced pluripotent stem cells – derived retinal pigment epithelium (RPE) cells for exudative age-related macular degeneration (AMD)" conducted by RIKEN etc.
【Liver Disease】
Please refer to the page "About Liver Disease" involving a technology to create functional human organs using pluripotent stem cells (such as iPSCs).
| | | | | | | | |
| --- | --- | --- | --- | --- | --- | --- | --- |
| Development Code | Indication | Market | Pre-clinical test | Clinical test | Apply-approve | On the Market | Progress Status |
| HLCL041 | Metabolic Liver Disease | Japan | | | | | ONL established |